We kinda made up this recipe one day while we were at the grocery store and wanted to try something new for dinner. It ended up turning out great so I wanted to share it with you.
Ingredients:
• 1/2 medium onion, chopped
• 1/4 cup chopped pepperoni (we used turkey pepperoni)
• 3 teaspoons chopped basil
• 1 cup chopped fresh spinach
• turkey meatballs (either pre-made frozen or make your own - for super exciting meatballs, try these
cheesy stuffed meatballs
)
• sliced mozzarella cheese
• marinara sauce
• Italian bread or large buns
In a large pot, combine onion, pepperoni, basil, marinara sauce, spinach, and meatballs. Cover pot and heat for about 30 minutes or until meatballs are cooked. Stir every few minutes while cooking.
Once meatballs are done, spoon meatballs and sauce in buns and top with cheese slices. To melt the cheese, place sandwiches on a cookie sheet and heat in the over for a couple minutes.
A quick & yummy meal! Enjoy!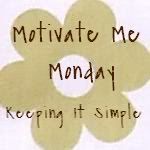 Sumo's Sweet Stuff
Tempt My Tummy Tuesdays