Let me start off by saying I've NEVER done a floral craft project before. I worked at Michaels in high school and pretended I knew what I was talking about, but I just learned from the floral artists that worked there. Ever since then, I've wanted to try something simple and this was the perfect chance for me to try out my skills.
I recently saw a blog post where someone used a giant cup to plant real flowers and this idea instantly popped into my head. I had a giant coffee cup in the basement in the donate box! This cup has been through a lot as it was passed down to me by my aunt and then I used it in my bedroom to hold my change when I was in high school and college. It's been sitting in a box for probably 6 years.
Since I have a black thumb, I figured fake plants would be easier for me to maintain. I started out by filling the cup with some floral foam.
Then I added some moss to cover the foam and add texture. What a mess!
I bought 2 bouquets of flowers and chopped off the ends so each stem was separate.
Then I slowly arrange the flowers and bent the wire stems to get the look I wanted.
SO easy and it hardly took any time to make!
Plus, this project was super cheap.
I bought all my supplies at dollar stores so the entire project cost me $4!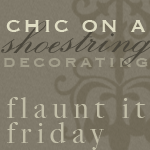 Frugalicious Friday